TrackMaster is a battery-operated toy system manufactured by Fisher-Price, Mattel in the US. The range was launched in 2007 after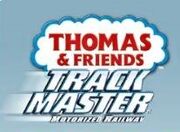 previous owners, TOMY, lost their licence to HiT Toy Company to make the Motor Road and Rail range. However, TOMY did not sell the range in the UK up until 2010. In 2010, Fisher Price picked up HiT Toys' licence. The engines run on special plastic tan track and until 2010, the roadway vehicles ran on a special grey road. In 2014, The range was re-designed. Engines are faster and run on new grey track. There are special track adapters to connect the new-style track to the old-style track. They can also climb up steeper inclines.
Ad blocker interference detected!
Wikia is a free-to-use site that makes money from advertising. We have a modified experience for viewers using ad blockers

Wikia is not accessible if you've made further modifications. Remove the custom ad blocker rule(s) and the page will load as expected.