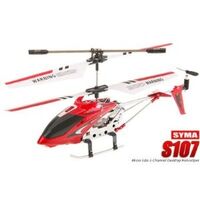 Syma S107/S107G R/C Helicopters are some of the hottest toys in 2012. Each retails for about $130, and can be found on Amazon for a discount. They come in multiple colors, including blue, yellow and red.
The helicopters are about 7.5 inches long and wide. They can be flown with the use of a remote control, and it is possible to fly two at the same time.
Ad blocker interference detected!
Wikia is a free-to-use site that makes money from advertising. We have a modified experience for viewers using ad blockers

Wikia is not accessible if you've made further modifications. Remove the custom ad blocker rule(s) and the page will load as expected.