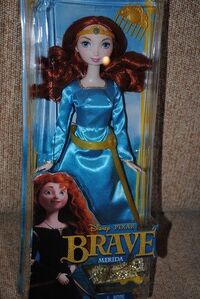 The Princess Merida doll is a hard-bodied and hard-limbed Barbie-style doll from Mattel. She is outfitted in a long turquoise gown, and given the wild red hair as shown in the movie, Brave.
The doll was released in spring of 2012, and announced in February of 2012, to correspond with the release of Brave. It is expected to be a very hot toy for summer 2012.
Ad blocker interference detected!
Wikia is a free-to-use site that makes money from advertising. We have a modified experience for viewers using ad blockers

Wikia is not accessible if you've made further modifications. Remove the custom ad blocker rule(s) and the page will load as expected.