Ninjor

Manufacturer
Bandai




Product line
Mighty Morphin Power Rangers
Ninjor is figure from the Mighty Morphin Power Rangers toy line. He can transform into a samurai warrior.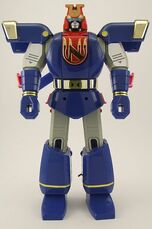 This toy is broken. You can help Toys Wiki to fix it by editing.
The figure was later reissued as Ninjakon for the Power Rangers Ninja Storm toy line.
Ad blocker interference detected!
Wikia is a free-to-use site that makes money from advertising. We have a modified experience for viewers using ad blockers

Wikia is not accessible if you've made further modifications. Remove the custom ad blocker rule(s) and the page will load as expected.