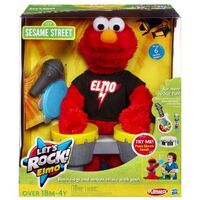 Let's Rock Elmo is a Sesame Street doll popular in the 2011-2012 toy season. Elmo doll comes in rock-style tee, and comes with a microphone, a tambourine and a drum set. He can identify which instrument is introduced to him and then plays it. The Elmo doll can correspond with the "Let's Rock" electric instruments so kids can play along with Elmo. This toy is primarily for the preschool age range.
Ad blocker interference detected!
Wikia is a free-to-use site that makes money from advertising. We have a modified experience for viewers using ad blockers

Wikia is not accessible if you've made further modifications. Remove the custom ad blocker rule(s) and the page will load as expected.