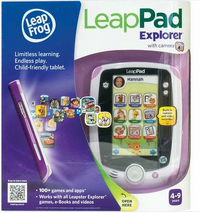 The LeapFrog LeapPad Explorer is a tablet meant for kids ages four to nine. It features games which teach kids math, science, geography, spelling, music and more. It adjusts learning level automatically so kids can catch up even if they are younger. It retails for $150 and comes with four apps (Pet Pad, Story Studio, Art Studio, and one app of your choice).
Ad blocker interference detected!
Wikia is a free-to-use site that makes money from advertising. We have a modified experience for viewers using ad blockers

Wikia is not accessible if you've made further modifications. Remove the custom ad blocker rule(s) and the page will load as expected.