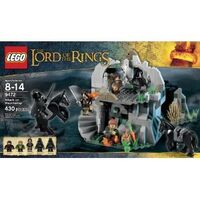 LEGO The Lord of the Rings Hobbit Attack on Weathertop is a hot new Lego set, popular in 2012. It retails at around $60 and is meant for older kids, given that it has small parts. The set consists of Weathertop, as well as horses, swords, torches, and of course, "the ring". There is also a trap door that swings open, as well as a hidden weapon rack.
Ad blocker interference detected!
Wikia is a free-to-use site that makes money from advertising. We have a modified experience for viewers using ad blockers

Wikia is not accessible if you've made further modifications. Remove the custom ad blocker rule(s) and the page will load as expected.