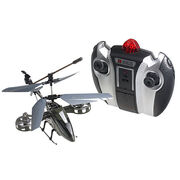 F1 Series Mini 1/R Helicopter(4 CHANNEL Mini Remote Control Helicopter) F103
Edit
Attention:
Keep the small parts of the product awy from kids, in case of choking accident
If another infrared device is using the same frequency, please move to another location
Replace with new batteries when the product function impairs
Do not store the products in either hot or wet environment
If the battery is dipped into water, make sure it gets dry before using it
Turn off the helicopter and remote control after playing
Parameter:
Impetus Batteries: Li-poly 3.7V 180mAh
Charging Time: About 30 minutes
Flying Time: About 5-7 minutes
Remote-control Distance: About 10m
can be bought from Goodscool.net
Ad blocker interference detected!
Wikia is a free-to-use site that makes money from advertising. We have a modified experience for viewers using ad blockers

Wikia is not accessible if you've made further modifications. Remove the custom ad blocker rule(s) and the page will load as expected.