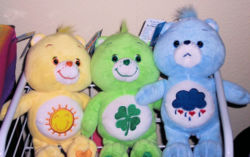 Although considered a retro toy, Care bears have made a successful comeback and are once again a popular toy.
The Care Bears are a furry group of friends each with their very own caring mission in which they aim to teach people how to care. Each Bear has a different picture on their tummy that tells the world who they are and what their special area of caring is. Care bears include Love-alot Bear, Grumpy Bear, Good Luck Bear, Tenderheart Bear and a host of others. They all live in their castle on care-a-lot cloud - how sweet! They really are an adorable collection that teach good basic values.
Ad blocker interference detected!
Wikia is a free-to-use site that makes money from advertising. We have a modified experience for viewers using ad blockers

Wikia is not accessible if you've made further modifications. Remove the custom ad blocker rule(s) and the page will load as expected.