Battleship usually refers to the original strategic guessing board game from Hasbro. With the movie, Battleship, released in 2012, the board game has become more popular. Battleship Deluxe, Movie Edition has come out, and is destined to be a hot toy for 2012.
Battleship
Edit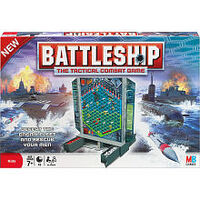 The original board game, Battleship, is still popular although it has been on the market for a long time. It is meant for two players. Each player commands five "ships" and the other player must use simple strategy (the opponent's board is not visible to the other player) to figure out where the battleships are, and to "sink" them.
Battleship was released on May 18, 2012 by Universal Pictures. The theatre trailer and poster spells out "From Hasbro, the Company That Brought You Transformers." Directed by actor/producer Peter Berg (Hancock, The Rundown, The Kingdom, television's Chicago Hope), it stars Liam Neeson and Def Soul/Island Def Jam/Universal Music recording artist Rihanna.
For more on the history of Battleship, click below for:
Visit the Battleship homepage:
Battleship Deluxe
Edit
Battleship Deluxe is the 2012 movie-edition version of the original Battleship. It is for two players, ages seven and up (small pieces make it dangerous for young children.) As an added bonus, players can choose from three different variations.
Ad blocker interference detected!
Wikia is a free-to-use site that makes money from advertising. We have a modified experience for viewers using ad blockers

Wikia is not accessible if you've made further modifications. Remove the custom ad blocker rule(s) and the page will load as expected.