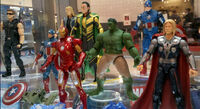 Avengers toys are particularly popular in 2012, given the release of the film, The Avengers. They are mostly popular among boys, but are also suitable for girls. Due to small pieces, most of these toys won't be suitable for very young children.
Action Figures
Edit
Avengers action figures retail for about $10 at most major toystores. Each is about 4" tall. They include Iron Man, Thor, Black Widow, Captain America, the Hulk, Hawkeye and Loki. They also come in some variations (Loki with or without cosmic spear, etc.)
Avengers toys are also popular within Lego:
Ad blocker interference detected!
Wikia is a free-to-use site that makes money from advertising. We have a modified experience for viewers using ad blockers

Wikia is not accessible if you've made further modifications. Remove the custom ad blocker rule(s) and the page will load as expected.